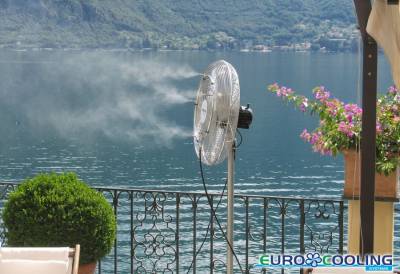 Accommodations services, even if for many it may seem a novelty, for more than 15 years in Italy Euro Cooling realizes misting systems for outdoor environments cooling. Born in the heart of tourism and innovation our company has had the opportunity to realize many fog systems for bars and restaurants turning verandas, patios and outdoor gazebo in a cool and comfortable oasis even during the hottest hours of the day with satisfaction of operators and customers of these accommodation facilities.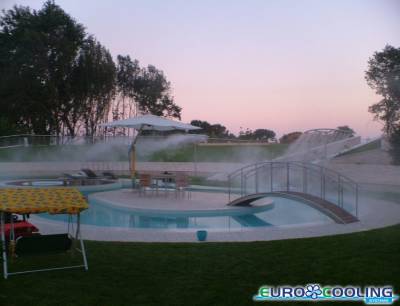 With our advanced technologies and patented systems also create fog systems for discos and night clubs that operate under conditions of relatively high humidity, it isn't a problem, ensuring the customer a system that doesn't wet!
Theme parks such as Mirabilandia, Oltremare, Fiabilandia, Isola Verde, Aquafan, added up to hundreds of beaches and seaside resorts along the coast and Italy's islands, have offered Euro Cooling nebulization solutions for large spaces or high numbers of visitors helping to try and learn about the benefits of our systems to their visitors.
Golf courses, swimming pools, soccer fields and tennis are other typical applications where spraying has brought significant improvements in comfort and well-being because of the use of this facilities even during the hottest hours of the day, recovering downtime and financial losses.
We made dozens of plants with nebulizers to condition outdoor premises for receptions where never would have thought that by spraying water on sitting people in a suit or hairstyled like stars stars, you would have offered them a pleasant climate and without wetting them. Many ice cream shops, kiosks and hotels have installed an Euro Cooling misting system for refresh the environment, to overcome the problem of flies and mosquitoes.

Visit mistermosquito.net for more information on the fight against mosquitoes.